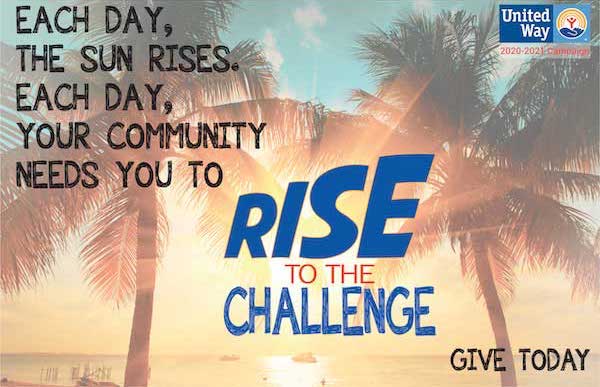 This year's United Way Annual Kick Off is moving to a virtual platform. "By moving to a virtual platform we can ensure the safety of our volunteers and donors. This also enables more people to 'attend' the kick off than possible in the past", said Jeannine Joy, United Way President and CEO.
United Way 2020-2021 Campaign Kick Off
Rise to the Challenge!
Tuesday, October 27 at 9:00 a.m
Pre-Show at 8:45 a.m.
Register at UnitedWayLee.org
The 2020-2021 Campaign Co-Chairs are Karen Ryan of LCEC and Bob Beville of Waterman Broadcasting. "This year's campaign kick-off is as unique as the upcoming campaign. Thanks to Waterman Broadcasting NBC-2 ABC-7, we are able to stream the event live so that everyone has a chance to join. We hope to share the amazing United Way story and how our community is rising to the challenge," said Ryan.
Normally the event is $10 a ticket for entry – this year, there is no charge thanks to generous sponsorships: O'Donnell Landscapes, Inc., Waterman Broadcasting, Scanlon Auto Group, and Priority Business Solutions.
All money raised in the United Way Campaign stays in the local community to help support the local human service network. United Way partner agencies and initiatives like Alvin A. Dubin Alzheimer's Resource Center, Child Care of Southwest Florida, The Salvation Army, Bonita Springs Assistance, Lighthouse of Southwest Florida,  Mission United, and United Way 211 serve a diverse range of needs in our community such as nurturing children and youth, strengthening families, and meeting critical needs such as helping the elderly and disabled live independently, and empowering communities by bringing health and human services to neighborhoods.
In addition to raising funds for human service organizations in our community, the United Way promotes partnerships and collaborations among agencies and initiatives, helping them to work together focusing on issues and solutions that continue to improve lives.