Registered Therapy Dog Volunteers
United Way is seeking volunteers for Beesley's Paw Prints programs to visit our partner agencies and schools. Pets are proven to have therapeutic qualities:  improving mood, and reducing stress levels.  Interacting with animals can stimulate laughter and joy in people whose lives have been affected by illness or depression.  Playing with pets can stimulate adults and children to become more physically active too.
Join the Beesley's Paw Prints team with your own registered pet, or let us guide you on getting your pet registered. It will be a rewarding experience for you both!
Beesley's Paw Prints is a United Way collaborative within our network of partners including Children's Advocacy Center (CAC) and Gulf Coast Humane Society (GCHS). The program is generously supported by Carol Beesley.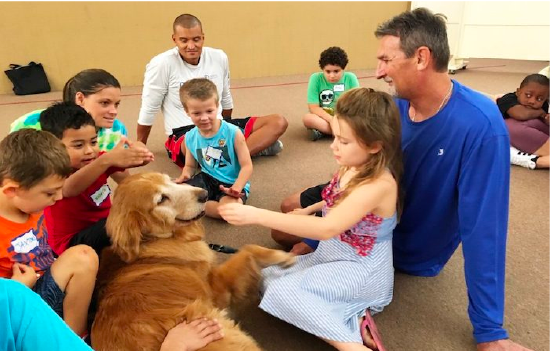 Places we visit:
Skilled Nursing Facilities
Schools
Hospitals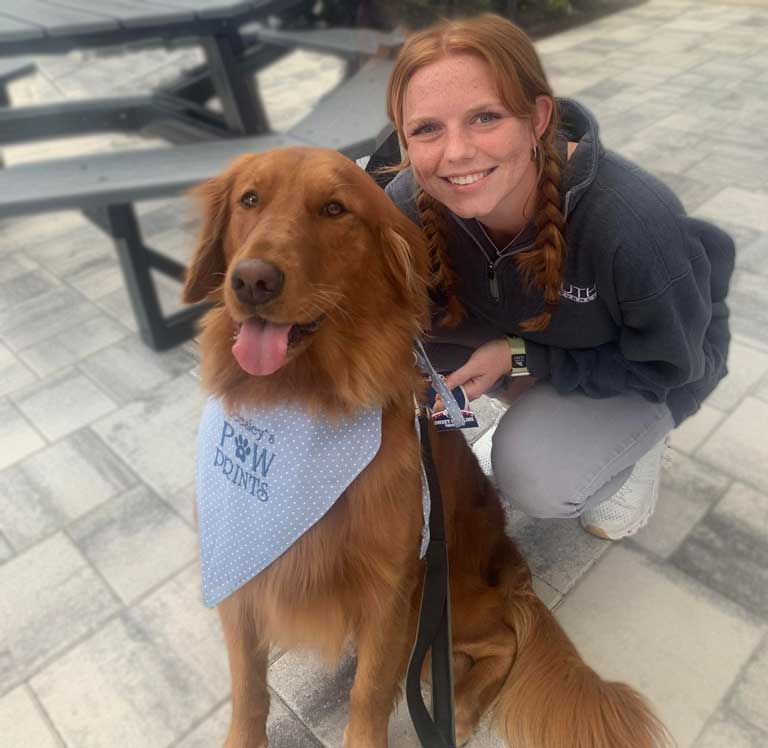 Community Centers
Special Needs Service Organizations
Colleges/Universities
Mental Health Therapy Sessions
Courts
Senior Housing
Join the Beesley's Paw Prints Team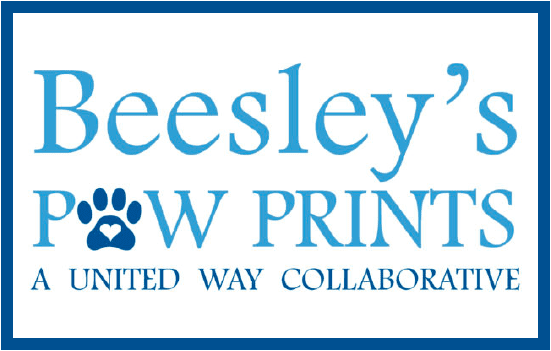 Dogs and their handlers are certified by national organizations such as Alliance for Therapy Dogs, Pet Partners, Love On A Leash, or Therapy Dogs International. Therapy dogs undergo testing to assure they have good manners and react positively to strangers.  Pets in the program are:
Clean & well-groomed
Have good manners
Up-to-date on vaccines
Covered by insurance of a national therapy dog organization
Over one year in age
Do you think your dog would be a great addition to our Beesley's Paw Prints program? All breeds and blends are eligible to become therapy dogs. For more information on joining this life-changing team.
For more information contact Beesleys@UnitedWayLee.org,
or call (239) 433-7584.
Frequently Asked Questions
What breeds does the Beesley's Paw Prints Program accept?
Beesley's Paw Prints Pet Therapy Program accepts all breeds of dogs.
What are the guidelines for a therapy dog?
To register as a Therapy dog, the dog must be at least one year of age, have a calm and gentle disposition, be attentive to owner/handler, and have a Therapy Dog Certification.
What is the difference between a Therapy Dog an a Service Animal?
A service dog is trained to do work or perform tasks for a person with a disability. Service dogs are protected under the Americans with Disabilities Act (ADA) giving them public access rights. A therapy dog is trained to provide affection and comfort to people in hospitals, retirement homes, nursing homes, schools, hospices, disaster areas. Therapy dogs are not service animals and are not afforded the same privileges. (K9 Partners for Patriots)
What does it cost to become a registered Therapy Dog?
Registering your dog to become a Therapy Dog can range in costs depending on the Registering Agency you use. Costs start as low as $45, depending on the agency chosen for certification. Agencies include, but are not limited to: Alliance of Therapy Dogs, Love on a Leash, and Therapy Dogs International.
Are background checks required?
Background checks ARE required.  It is part of the therapy certification process through the certifying organization.